VariDesk Reviews
VariDesk's first desktop riser model, the VariDesk Pro, is also the most basic, most affordable standing desk converter in VariDesk's catalog. Once among the best choices for transforming a fixed-height desk into a sit stand workstation, the VariDesk Pro has since been outdone by newer workstations with a host of new, innovative ergonomic features.
Spring-loaded mechanism with 11 locking height positions
26.75" x 30"
26.75" x 36"
26.75" x 48"
The VariDesk Sit-to-Stand Desktop Riser offers easy transitions between sitting and standing at your current non-height adjustable desk, featuring 11 different height settings. Stable on your desktop - even with substantial force pressing down on the keyboard area it will not tilt off the desk.
Eleven-stop adjustability is not as versatile or quiet as continuous adjustability on other models. Be careful when transitioning to standing not to extend monitor and peripheral cables too far, pulling them off the VariDesk. Bulky unit is hard to move, and replaces your desk surface. Optional monitor arm is a necessity for sufficient ergonomics.
Review Details
When it first debuted in 2013, VariDesk sold a single desktop riser that was both simple and inexpensive. In the last few years, VariDesk has risen to become one of the most ubiquitous manufacturers of standing desk converters on the market. Today, their catalog is teeming with workstations of different shapes and sizes, and they've even made something that resembles a full stand-up desk.
VariDesk reviews on Amazon number in the 1000s. Among their 6 standing desk converter models, the VariDesk Pro is their most frequently reviewed product. Over the last few years, it has garnered over 1,300 reviews with 86% of customers rating the product 5 stars.
But while the VariDesk Pro may have once been a force to be reckoned with, the standing desk converter arena is a lot more crowded nowadays, and it faces some tough competition—including from other VariDesks. When stacked up against other top standing desk converters on the market, the VariDesk line starts to appear like mere mortals.
VariDesk Reviews - Standing Desk Converters
Varidesk Model

Review

Price

1. VariDesk Exec 40

Experts' Rating: 3-Star 

-Varidesk built for taller users.
-Wider height range, includes keyboard tray.
-40"-wide model.

$550

---

2. VariDesk Cube Plus

Experts' Rating: 3-Star 

-Designed for small cubicle office spaces.
-Includes keyboard tray.
-40" or 48"-wide models.

$450

---

3. VariDesk Pro Plus

Experts' Rating: 2.5-Star 

-An ergonomic improvement upon the original Varidesk.
-Adds a keyboard tray.
-30", 36", 40"-wide models.

$395

---

4. VariDesk Pro

Experts' Rating: 2.5-Star 

-The original Varidesk.
-A single platform with no keyboard tray.
-30" or 36"-wide models.

$395

---

5. VariDesk Cube Corner

Experts' Rating: 2.5-Star 

-Designed for corner cubicle office spaces.
-Includes keyboard tray.
-36" or 48"-wide models.

$495

---

5. VariDesk Laptop 30

Experts' Rating: 1.5-Star 

-Designed for holding laptops only.
-No keyboard tray.
-30"-wide model.

$175

---
VariDesk's Foolproof Installation
All VariDesk models, including the Pro, have the benefit of an assembly-free setup: Just take it out of the box and place it on your desk. This kind of hands-free installation—also available for the iMovR ZipLift, Ergotron Workfit-T and Ergo Desktop's Kangaroo and Wallaby workstations—is especially valuable for the many offices that want to provide their employees with standing workstations but don't have the time or labor to assemble a dozen desktop risers. Many standing desk converters, including Ergotron's Workfit-S and Humanscale's Quickstand need to be clamped to a desk edge or through a grommet to make sure they don't fall over. The VariDesk simplifies installation by skipping this step and including a heavy base to keep from tipping over. The downside of that base is reduced portability; we recommend having another person help you if you want to move the VariDesk to another workstation.
A Bulky Base
In recent years, a number of standing desk converters have emerged with svelte, compact designs meant to take little space on your desk top. The Kangaroo is a great example: Its trapezoidal work surface is specifically designed to more easily fit into corners, and its free floating base is dense but small enough that you can easily slide the whole thing across your desk top, giving you more table space when you need it. The VariDesk is far from compact. Its heavy base spans the width of the work surface and is meant to more-or-less completely replace your existing desk surface, so it's best to treat it as a permanent fixture in your office. We recommend using some tape to mark off how much space the VariDesk would need on your desk in order to get a sense for how it would fit.
A Step Function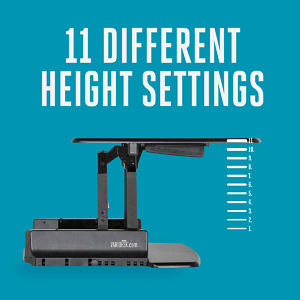 A spring-loaded, locking mechanism adjusts the VariDesk's height. Squeezing two levers positioned under the VariDesk's left and right releases the lock. Raise or lower the work surface to your preferred height, and let go of the levers to lock it in place. The VariDesk can only be set to one of eleven height positions, which means it's impossible to make the minute adjustments necessary to find your perfect working height. To compare, the Workfit-T has twenty height settings, offering more granular height adjustments. But nothing beats the infinitely adjustable height settings of gas-assisted lift systems like the Kangaroo and Workfit-S, which allow you to set your working height precisely where you want it along their adjustment range.
The VariDesk features a maximum height of 15.5" above the desk top, which is serviceable but shorter than the most other standing desk converters' max heights, which range from 16.5" to 21". Still, standard office desks measure about 30 inches in height, so we're certain most VariDesk users will be able to find a height they can work with (whether or not this height is ergonomically sound is an entirely different matter, which we'll address later). The VariDesk's lift mechanism is robust enough to carry up to 35 lbs., which is more than enough for a couple monitors, a laptop, and any other small office items that you may want to take with you to standing height.
VariDesk's Tricky "Arc" Adjustment
One of the downsides of the VariDesk's height adjustment mechanism is that, rather than adjusting straight up and down, the work surface adjusts in an arc toward the user. This forces users away from their desks whenever they stand, making parts of the desk difficult to access, and can even be hazardous if your monitors and other hardware don't have long enough cords to keep them from being yanked backwards.
It also means that users will need to be wary of the floor space behind them. If you're in a tight cubicle, this space comes at a premium. Users with deeper desktops, at least 30" deep, can push the VariDesk back most of the time to counteract this arcing, but folks without this luxury will have to cope with having less desk space and less floor space.
We expected the Varidesk to keel over as soon as we started typing on it. Or, at the very least, for our monitors to shake wildly as we worked. Instability and monitor shake are always a concern with standing desk converters, and there's no such thing as perfect stability—all standing desk converters will exhibit at least some shakiness. And while the Varidesk did display an annoying, albeit acceptable, amount of monitor shake, it's a lot less shaky than workstations like the Workfit-S and Quickstand. The VariDesk's solid base removed any worry we had about it tipping over; its stability is on par with the iMovR ZipLift, Ergotron Workfit-T or the Kangaroo.
Prior to March 2, 2018, all Varidesk workstations came with a limited, one-year warranty—after that date, the warranty has been upped to 5 years, putting it in the range of the top competitors. It is, after all, a large piece of equipment that starts at close to $400. We are happy to see that Varidesk finally made this change and will stand behind their products for a longer period of time.
Ergonomics as an Afterthought
The Pro is the simplest of VariDesk's standing desk converters. It features a single height-adjustable work surface (available in 30" and 36" versions) and a retractable, fixed-height platform that remains flush with your table top. Switching from sitting to standing height requires users to pick up their keyboard and mouse and move them to the top work surface, an annoying extra step when switching between different work modes that most other desktop risers avoid.
This keyboard and monitor set up is also ergonomically harmful to users. Because the keyboard is much closer to the monitor height compared to a desk with a monitor arm, users must type with their hands far above elbow height, their necks craning down to look at their screen, or a combination of both. This kind of ergonomically unhealthy posture inevitably results in neck and wrist strain as you work. VariDesk's more ergonomic "Pro Plus" models feature a separate keyboard tray suspended 3.5 inches below the top work surface, which better protects your wrists from unnecessary bending or twisting, and you're less likely to crane your neck to see your screen. The VariDesk Pro's single worksurface makes it the least ergonomically sound product in VariDesk's catalog after their smaller Soho and Laptop models.
But no matter which VariDesk model you're using, placing your monitors on top of the work surface in the first place leads to poor ergonomics due to the fact that most users need their screens higher than a typical monitor stand can accommodate. To address this, VariDesk sells an optional monitor arm that's compatible with all of their standing desk converters. This monitor arm serves a dual purpose: It frees up more space on the work surface for your other work materials, and it provides an extra 20.5" of height adjustment for your monitor. This offers better ergonomics than either the Pro or the Pro Plus alone, and is the only way for VariDesk users to achieve an ergonomically friendly position for both their wrists and their necks.
Unfortunately, improved ergonomics doesn't come cheap: At $125, this monitor arm brings the VariDesk's total price up to $500. At that price range, the VariDesk is competing against products with much better features. The iMovR ZipLift and iMovR+Eureka series offer much better stability (rock solid), a silky-smooth and silent gas strut lift mechanism as compared to the clangy springs and limited height stops of all Varidesk models, and a tilt-adjustable keyboard tray among other ergonomic enhancements—all for a lower price. The Kangaroo Pro costs the same amount and comes with an independently height adjustable monitor mount built-in, a more precise height adjustment mechanism, improved stability, and much greater value than the VariDesk Pro. Granted, the VariDesk's monitor arm does have the benefit of being able to swing side to side, but the VariDesk Pro's work surface is most likely too narrow to make much use of this movability.
The Takeaway
The VariDesk Pro is easily outmatched by other standing desk converters. Its clunky height adjustment mechanism and sub-par ergonomics—improved only with an expensive monitor arm attachment—make it the least impressive item in VariDesk's catalog, and a poor choice for the value. For less than its $375 starting price, users can find standing desk converters. See our Comparison Review of Standing Desk Converters for a deeper look at the competition.
As a parting observation, VariDesk recently raised the price on the VariDesk Pro by a hundred dollars, presumably to help cover the costs of their massive television, print, and online advertising campaigns. This huge marketing does some real good in that it raises awareness about sitting disease and gets people searching for a proper sit-stand setup. However, most of the people we talk with who have purchased or were given a VariDesk typically report it was an interim solution they have replaced, or plan to replace, with something more ergonomic and attractive.
If you already own a selling a used Varidesk, if that's what you're considering. The primer also has links to competitors' conquests rebates that can save you money on a new standing desk converter if you or your organization already own one.
More Varidesk Reviews - Standing Desks
Varidesk Model

Review

Price

1. VariDesk Pro Desk 60 Electric

Experts' Rating: 2-Star 

-Full electric-powered standing desk.
-Available in 5 different colors.
-60"W x 30"D model.

$995

---

2. VariDesk Pro Desk

Experts' Rating: 1.5-Star 

-Spring-loaded lever-locking system on top of desk legs.
-Available in 5 different colors.
-48"-wide model.

$595

---
Want to Sell A Used Varidesk?
There's a lot of people in the same boat as you. Check out our brief article for tips.