Lorell Sit-to-Stand Monitor Risers Review
Like most reviews sites, our editorial staff and laboratory testing expenses are partially offset by earning small commissions (at no cost to you) when you purchase something through those links. Learn More

Overview
Review Summary

The Lorell Sit-Stand Monitor Risers are innovative, but not in a good way. We question the design decision that went into the Lorell Standard's peculiar lift mechanism, which requires you to adjust two locks on the back side of the unit before lifting and lowering. There's also quality concerns with its cheap components, and together they've led to our low rating.

MSRP / List Price

Standard: $150, Deluxe: $226

Shipping

Free Shipping

Colors Available

Standard: Black, White
Deluxe: Black

Monitor Arm Mounting Options

Standard: No, Deluxe: Yes

Minimum Height

6.5″

Maximum Height

16"

Weight Capacity

50 lbs (advertised)

Number of Monitors Supported

2

Dimensions

Main Work Surface: Standard: 31" W x 20" D; Deluxe: 37" W x 24" D
Keyboard Tray: Standard: 24″ W x 12″ D; Deluxe: NA

Product Weight

Standard: 35 lbs, Deluxe: 38 lbs

NEAT™ Certified by Mayo Clinic

No

Competition
Standing Desk Converter Comparison Reviews
User Reviews
Amazon Reviews
Where to buy
Buy on Amazon

Rating
| | |
| --- | --- |
| Expert Rating | |
| Positives | Two different-sized models. Comes completely assembled. Lowered keyboard tray, inexpensive, and high advertised weight capacity. |
| Negatives | Tedious (and potentially dangerous) lifting process. Only 5 height presets, poor quality laminate, low quality locking mechanism, and short keyboard tray depth. Easy to pinch mouse and keyboard chords in fully lowered position. |
We'd steer clear from the Lorell Sit-Stand Monitor Riser. Its locking mechanism adds a couple extra, tedious steps to lift up and down. To make matters worse, users have reported the finish starts peeling off after only a week's worth of use. The Deluxe model is better, but not by much. If you really want a low-budget option, there are competitor models at this price point we'd bank on instead.
Editor's Note: The following is a "forensic" review. We have not yet had the opportunity to test the Lorell Sit-to-Stand monitor riser in our labs. When we have been unable to obtain a review unit from the manufacturer and when there is demand from our readers for information on the product, we evaluate publicly available information that the manufacturer and users of the product have provided online. We then apply our extensive experience evaluating standing desk converters and make an informed projection of how well this product will stack up against other products in its category. As soon as we are able to conduct a hands-on evaluation of the product or learn new information about it, we will update this review. Learn more about our review process at Anatomy of a Review.
---
Key Facts
Z-Lift mechanism
Lowered keyboard tray
Two models, Standard and Deluxe
Deluxe has larger work surface and a grommet hole for mounting monitor arms
Standard model features odd 'locking' lift mechanism
Lorell Sit-to-Stand Monitor Risers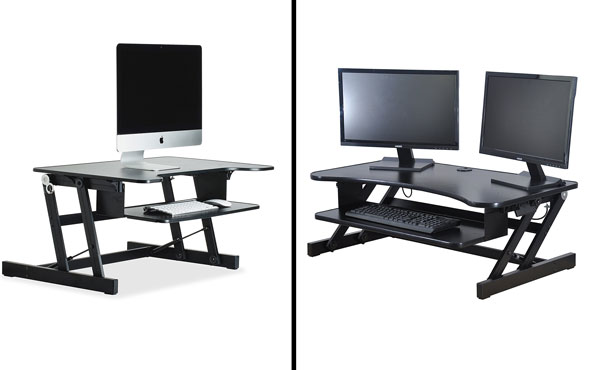 In the case of the Lorell Sit-to-Stand Monitor Risers, we're dealing with what we call Z-Lifts, standing desk converters with a Z-shaped lift mechanism that tend to be both stable and ergonomically-sound.
The first of these products was the Varidesk, and ever since, competitors have been racing to make copycat products. Sometimes they've been successful innovators. The ZipLift+ and Winston-E stand out as examples.
The Lorell Sit-Stand Monitor Risers are innovative too, but not in a good way. We question the design decision that went into the Lorell Standard's peculiar lift mechanism, which requires you to adjust two locks on the back side of the unit before lifting and lowering. There's also quality concerns with its cheap components, and together they've led to our low rating.
A Peculiar Lift Mechanism Among Other Problems…
What's odd about the lift mechanism? Well, for one, no other model in the market requires its additional, tedious step. Normally you just press the levers in on both sides and lift your unit up or down.
The Lorell requires you to adjust two locks on the back of the device, lift your desktop up, and then—while holding it in place—reach back over your desktop and re-engage the locks. It's cumbersome beyond what we've seen in any competitors, and, as other reviewers note, it poses a bit of a threat to those with back problems. You have to reach across the length of the unit while holding it up at the same time.
Of course, the Lorell Sit-to-Stand monitor risers come in two models. The cheaper, standard version suffers from this tedious lift mechanism while the Deluxe version is built more like a normal Z-Lift converter. It has two handles on either side you press in while adjusting its height. The Deluxe version is larger (37" width vs. 31") and it comes with a grommet hole in the back for mounting a monitor arm. In general, it's a better product than the standard version, and if you had to go with one of these, we'd recommend it. But naturally it carries a higher price tag.
Aside from the lift mechanism on the standard, both models suffer from quality issues related to the laminate surfaces. In some cases, after only a week or so, users report the laminate on the front edge of the device beginning to peel off, exposing the particle board underneath. And at least on the standard version, the keyboard tray has been known to droop down at an angle, so that in the fully lowered position, the front edge scrapes against the desktop.
Bottom Line
In the end, you get what you pay for. These models are inexpensive and not designed to last. Customers mention using the Lorell as a starter kit before eventually upgrading to a Varidesk, the popular (albeit ergonomically deficient) brand in this category. We'd suggest skipping the Varidesk and going straight to a premium Z-Lift with a gas strut braking system and tilting keyboard tray, which is quieter while lifting up and down and more ergonomic while typing.
Before buying a standing desk converter, be sure to check out our comprehensive sit-stand converter reviews.
---

Frequently Bought Together With
Standing Desk Converters
---