The Best Standing Desks for 2020 – Expert Reviews
Searching for the best standing desk for your office? Start here.
What is an Electric Adjustable-Height Standing Desk?
An electric adjustable-height standing desk is a desk typically powered by precision linear motor drives that easily changes height with the press of a button. They have a distinct advantage over most manually-operated desks in speed, convenience, and performance, but tend to cost more than their crank-operated cousins. Nevertheless, they remain thel active standing workstation of choice for homes and offices across the country. With dozens of adjustable standing desks spanning a wide range of capabilities, feature sets, and price tags, you can be sure to find a model that works for your unique workspace.
Our Comprehensive Standing Desk Review Process
With the sheer number of height-adjustable standing desks available, it can be pretty daunting to find the right desk. That's why we've done the leg work and compiled the specifications of every standing desk we've reviewed. This page provides an apples-to-apples comparison of the different products in the market today and is a great place to start your search.
As we explain in our Standing Desk Review Criteria, we look at a number of qualities and attributes when creating our product reviews. These include weight capacity, lift speed, stability, noise, ergonomics, customizable options, and assembly. To learn more about our review process in general, visit our Anatomy of a Review primer.
Standing Desk Product Categories
Since price is often the first qualifier most prospective adjustable height desk users think of when desk hunting, we divided electric standing desks into three tiers, based on their price tag.
Premium (under $1,100) electric standing desks require the biggest investment, but are feature-loaded, usually feature better build quality and warranties, and are sure to match the decor of the executive suite. Jump below
Value (under $800) standing desks offer good feature sets and specifications without costing as much as the premium adjustable height desk offerings. This tier is typically where you find your best value for the dollar. Jump below
Budget (under $500) standing desks have been optimized for cost-savings. They have generally lower, though not necessarily poor, performance specs, and come with the smallest price points and shortest warranties. Jump below
In response to reader demand, we've also created a separate round-up of reviews just for Standing Desks Made in America—worth checking out if you're looking for the very best-engineered and best-produced standing desks with the longest warranties and optimal customer support.
As you might be wondering, yes there are also standing desks available for corner and cubicle denizens. We have grouped these separately in our comprehensive round-ups of Corner Standing Desk Reviews and L-Shaped Adjustable-Height Standing Desk Reviews. Click here to learn the difference between corner desks and L-desks.
Below, you'll find abstracts of each product review by category. Note, we also have corner standing desk reviews and L-shaped standing desk reviews separate from this round-up just to keep the clutter down given how many offerings are in the market now. And, more recently, we've added the new round-up category of top quick-install standing desk reviews.
---
Premium Standing Desks Under $1,100
Uncompromising in their features and capabilities, a premium standing desk should offer the best that money can buy. Nearly every adjustable height desk in this price category includes a digital hand controller and many come equipped with advanced safety and reliability features that give them longer warranties than the average.
Not just the most functional, these stand up desks tend to have the best aesthetic as well. Thicker tabletops with beautiful finishes abound in this space, and you can also find hardwood and bamboo tops here. Of course, even among the high-tier desks, there is a wide range of quality and price. But beware—high price and high quality don't always go hand in hand.

Expert Rating: 5 stars 
Price: $1,049
Pros: The Lander is the most revolutionary standing desk design we've seen in years, with two features that set it clearly apart from the rest of the field. The first is that it arrives almost entirely pre-assembled, and comes together in just minutes without tools. The second is that in place of the conventional hand controller with an array of buttons and segmented readouts, the Lander's height is intuitively controlled with just a tap on its height adjustment paddle. A double-tap will take the next to its next "favorite" height. The paddle has a multicolor hi-res display and a Bluetooth link to any smartphone, allowing you control the desk and access its built-in health coach using either the phone or the paddle. Made-in-America like all iMovR electric height-adjustable desks, comes with iMovR's industry-leading ten year warranty, ultra-durable and gorgeous 3D-laminated surfaces, and a plethora of size and color combinations, as well as the option of a built-in SteadyType keyboard tray. Recently, iMovR added another 36 color options in ultra-premium solid natural wood. Our top choice for taller users and treadmill deskers too, as the Lander's impressive height range is matched with incredible work surface stability. It is also one of only three desks you can buy online that is ANSI/BIFMA X5.5 certified.
iMovR Lander rated Best Standing Desk by USA Today! Reviewed.com, a subsidiary of USA TODAY, named the iMovR Lander Standing Desk as its Editor's Choice and Best Overall Standing Desk on the market in the article The Best Standing Desks of 2019. The roundup highlighted the Lander's industry leading design, intuitive technology features, craftsmanship and ease-of-use, concluding that "The Lander is still our top choice for its American-made quality, durability and intuitiveness."
Cons: Corner models are not yet available. For those see iMovR's Freedom line, the Energize and Cascade models. However, iMovR has recently released an extraordinary array of innovation-leading L-shaped Standing Desks based on the Lander.
Where to Buy
Lander Standing Desk User Reviews
---
Experts' Rating:  4 stars 
Price: $993
Pros: 100% American-made quality, built-in SteadyType™ ergonomics, PerfectPaint glide system, easy assembly (as well as a factory pre-assembly option), low cost, extra base color options (black, silver, and white), industry-leading warranty, extremely quiet operation. Also comes in eight varieties of standing corner desk models.
Cons: Users over 5'11" should upgrade to the XT base (+$75) for extra height range. Note: users over 6'2" can also add 6" height extenders (+$59) to the XT base, a very popular option for extra-tall users that is only offered on iMovR electric standing desks. SteadyType™ removes desk space for the rare user with lots of paper flow.
Where to Buy
iMovR Cascade Standing Desk User Reviews
---
Expert Rating: 2.5 stars 
Price: $995
Pros: Varidesk, known as a pioneer in the standing desk converter industry, has finally entered the ring of full-size electric standing desks.  Varidesk has one of the strongest brand names in the industry due to its immense advertising budget. The ProDesk60 comes about halfway pre-assembled, so putting it together should be easier than most standing desks (though not the "5 minutes"  claimed by Varidesk, more likely 30 minutes.)
Cons: The other side of the Varidesk brand name is inflated price, and the ProDesk 60 Electric is no exception. At $995, it is simply outclassed by competitors with made-in-America desks, much less competition from China (where this desk is made). The outdated "knee crusher" crossbar is a no no for a standing desk in this day and age, and the lack of customization options (only one size is currently available) means you won't be able to customize it to ideally fit your space.
Where to Buy
---
Expert Rating: 2.5stars
Pros: The RISE was the first true sit-stand-walk adjustable standing desk we discovered here at WorkWhileWalking (apart from the aging travesty that is the Steelcase Sit-to-Walkstation). Highly width-adjustable and built to last, RISE desks are quiet and heavy lifting – only iMovR desks can boast a lower sound signature and higher lift capacity. Conference table-thick 1.375" tabletops are highly durable and add some extra stability.
Cons: With an 83″ long top and the desk elevation set up all the way to the top there can be some significant lateral shaking in the desk. Shorter table tops and lower elevations are solid but basic physics apply here as they would to any desk of this width and thickness (i.e. weight) set to the extreme high position. RISE doesn't seem to be quite ready for retail. Recent trouble with warranty returns and excessively long delivery times has led to some drops – RISE is down two editorial stars, and is no longer offered through any retail stores, to our knowledge.
---
Expert Rating: 2.5 stars 
Price: $849-$885

Pros: The vintage classic electric adjustable standing desk, GeekDesk has been around a long time, is solidly built, affordably priced and loved by their users. Admittedly, GeekDesk users tend to be – you guessed it – a bit on the geeky side (including some of our staff here at WWW who fondly remember the days when GeekDesk was pretty much the only available option.)
Cons: Despite being one of the first kids on the block GeekDesk is today a boutique-y, lifestyle manufacturing company that has not stayed on top of its game, and lacks the vast array of color and size options and the adjustable-width bases that other manufacturers now offer. Assembly takes longer than most other desks. The crossbar is necessary for lateral stability but can be a bit of a knee crusher for the individuals with long legs. It's the turtle of the pack, with a lifting speed of only 1.1″ per second, compared to the speedy 1.5″ – 2.0″ per second of its competitors. Persistent production delays usually mean the desks can take as long as five to eight weeks to arrive, longer than most people are willing to wait.
Where to Buy
Geek Desk Max Adjustable Height Desk User Reviews
---
Expert Rating: 3.5 stars
Price: starting at $899
Bottom Line: If this 30″ x 60″ size is right for you and you don't mind being limited to only the two color schemes, the E-60 is a high quality desk. But for $899 you could do much better—including having all the size and color options you can desire and double the warranty with a top-rated American-made standing desk—so it feels highly overpriced for what you're going to get.
WheWhere to Buyre to Buy[/button]
---
Value Standing Desks Under $800
Mid-tier standing desks offer the best combination of features and value. More function than form, these desks may lack some of the bells and whistles of the fancier desks on the market: their table tops may be thinner and less exotic, and their electronic controllers may be simpler two-button devices. But make no mistake, these adjustable height desks give you the most bang for your buck and can handle nearly anything your workday can dish out. They come in a variety of sizes to fit any office environment, and most come with hefty lifting capacities upwards of 200 lbs.
Expert Rating: 4.5 stars
Price: $799
Pros: The Lander Lite is the newest follow-up to iMovR's legendary Lander Desk (see Premium Desks category above), the #1-rated standing desk we've ever tested. It has all the same revolutionary features of the original but with a price point and performance attributes that are more suitable to the mainstream user (We liken it to the difference between the Tesla Model 3 and the original Model S). Like all iMovR desks, this made-to-order desk comes in thousands of size and color combinations, is manufactured entirely in America, ships in just one week, and features iMovR's industry-leading ten year warranty and 100-day satisfaction guarantee. Like the original Lander it arrives almost entirely factory pre-assembled, but requires one tool (provided) for an easy 8 minute assembly, as opposed to 2 minutes and no tools for its premium cousin. All the other high-tech features of the original, like bluetooth sync'd height control paddle and smartphone app, blazing yet hushed lifting at 1.6 inches per second, and the option of both 3D-laminated and solid wood desktops in 52 colors are there, but with a lift capacity of 225 lbs versus 360 lbs. Other ways this version is "lightened" is the use of lighter feet and thinner desktops with a more modern look versus the more traditional thick tops on Lander. The Lander Lite is available with a single-stage or dual-stage base giving it a lower entry point at only $799 for those who are of average height, while still offering a height extension kit on the dual-stage base with a top height of 55″ for the vertically-endowed and for treadmill desk users.
Built to extraordinary quality and reliability standards the Lander Lite is ANSI/BIFMA X5.5 certified, like the original Lander Desk and only one other standing desk model that can be purchased online; see our primer on ANSI/BIFMA standards and how they apply to standing desks.
Cons: Corner models are not yet available. For those see iMovR's Freedom line, the Energize and Cascade models. Built-in SteadyType keyboard tray also only available on the original Lander because of the "thick top" requirement. Compact (24″-deep) version also not yet available but see iMovR's Energize Compact for the best option there.
Where to Buy
---
Price: $638
Pros: All the benefits of the Cascade minus the SteadyType™ keyboard tray. Comes in even more custom tabletop size options, including 24″ and 30″ depths, and 3/4″ and 1-1/8″ thicknesses. Also available in eight varieties of standing corner desk models.
Cons: For those over 5'11", upgrading to the XT base (+$75) will deliver extra height range. Those over 6'2" can add 6" height extenders (+$59) to the XT base, an option only available on iMovR electric standing desks. For treadmill desk users especially, there is not the ergonomic benefit of the SteadyType™ keyboard tray.
Where to Buy
iMovR Energize Standing Desk User Reviews
---
Expert Rating: 4 stars 
Price: $729
Pros: The Uprise is Ergoprise's newest line, an improvement over their aging S2S model. It is quieter and stronger than a number of desks on the market, clocking in with a 42 dB noise signature during adjustment and a rated lift capacity of 360 lbs. The base adjusts at a rate of 1.7″ per second, faster than the majority of desks out there.
Cons: Everything above the Uprise's base is plain-Jane. Its standard, high-pressure table top isn't as durable as 3D lamination and is susceptible to moisture damage and delamination. Bamboo tops are available for the Uprise, but the added cost would put the desk well above the mid-range category.
Where to Buy
UpRise Standing Desk User Reviews
---
Price: $649
Pros: The Mod-E is the fastest adjustable standing desk in the West, with a 2.0 inch-per-second transit speed.
Cons: The Mod-E only comes with a simple up/down controller. It's also on the louder end of the desk noise spectrum, and at 75dB sounds like a coffee grinder during adjustment. A low max height of 47 inches may be too short for taller deskers and most treadmill desk users. Made in Malaysia, the Mod-E's tabletop is not of the most impressive quality, and its design is somewhat dated.
Where to Buy
ModTable Mod-E Standing Desk User Reviews
---
Expert Rating: 3 stars
Price: starting at $449
Pros: The Jarvis is a low-cost adjustable standing desk with a decent warranty. It comprises a commodity Jiecang base which normally exhibit poor performance stats, but uses some customized components that – according to the company – give it better stability than the stock base product.
Cons: The Jarvis desktop is an ordinary high-pressure laminate, lacking the improved durability of 3D lamination. Additionally, its motors move at a crawl, with a 1.25″ per second adjustment rate that's on the low end of the spectrum for mid-tier bases. (ErgoDepot, the ergonomics retailer that exclusively makes and sells the Jarvis Desk, has elected not to submit their their product to our testing lab.)
See also our reviews of the Jarvis L-Shaped Standing Desk.
Where to Buy
---
Price: starting at $691
Pros: The UpLift adjustable standing desk is low-cost, and features a digital controller with four memory presets.
Cons: UpLift uses a run-of-the-mill high-pressure laminate desktop. While it does feature some modifications to the base, the UpLift's commodity, Chinese-made, Jiecang base is notorious for being unstable at taller heights. (HumanSolution, an ergonomic retailer that exclusively makes and sells the UpLift, has elected not to submit their desk with the WWW labs for testing.)
See also our reviews on the UpLift L-Shaped Standing Desks and the UpLift "Curved Corner" Standing Desk.
Where to Buy
UpLift Standing Desk User Reviews
---
Price: $749-$799
Pros: The v3 is a simpler but more affordable variant of the GeekDesk Max. It has decent specs, available in three desktop sizes. Its 275 lb lift capacity is capable, though not as beefy as its high-tier counterpart, or even other mid-tier competitors for that matter.
Cons: The v3 shares the painfully slow adjustment speed of its more expensive counterpart, coming in at 1.1″ per second. Its 48.75″ max height is fine for standing, but both taller users and those moderate height users on office treadmills may be challenged by this limitation. The design is somewhat dated, lacking, among other things, an adjustable-width base.
Where to Buy
GeekDesk Standing Desk User Reviews
---
Budget Standing Desks Under $500
Bargain desk hunters will find the cheapest deals for their sit-to-stand offices here. Budget adjustable standing desks come with small price tags, sometimes cheaper even than standing desk converters. While this price tier includes a small number of desks that perform adequately, many cost-reduced desks lack in performance in one way or another. Buyers shopping for the lowest priced deals should be especially mindful of the possible compromise on quality.

Expert Rating:
4 stars 
Price: $399
Pros: Relative to other products in this price range the iMovR+Eureka i1 Standing Desk offers better reliability, durability, tech features and ease of assembly. Arrives in one box, unlike any other electric standing desk we've seen so far.
Cons: Only one size, only two desktop color options. We'd love to see more options.
Where to Buy
---
Expert Rating:
3.5 stars 
Price: As low as $480
Pros: Simple product, simple buying process. Limited desktop choices still offer a sufficient range of options for buyers who aren't trying to match a specific decor or space. Vanity tops like natural wood or reclaimed wood are half the cost of what Fully and Human Solution charge. Ten year warranty is better than offered on any other Chinese-made base. Nice looking full-color manual with clear instructions for how to clear error codes.
Cons: Weaknesses in crossbar design lead to instability with very large desktops and for taller users. Warranty does not include desktops. Assembly is quite involved, as it is with most any Chinese base that arrives as an "IKEA kit." Specs say it'll lift 400 lbs but we encountered numerous faults just trying to lift 355. There is a slight sync problem between the left and right motors that causes the desk to wobble every time it starts to ascend.
Where to Buy
StandDesk Pro Standing Desk User Reviews
---
Experts' Rating: 3 stars 
Price: $498, only one size: 53″ x 30″, with 3/4″ thickness
Pros: A step above earlier SmartDesk models, the First Class uses more reliable linear actuators (desk legs) and electronics from Taiwan. Assembly is about 20% faster than other SmartDesk models, and it looks to be faster, quieter, and stronger than their other standing desk products.
Cons: Still a commodity product made as cheaply as possible—not deserving of a "premium product" classification. Only 1 desktop size and 2 colors options for the desktop and base, so it could be difficult to match to your desk to your office decor.
Where to Buy
Autonomous SmartDesk First Class Sit to Stand Desk User Reviews
---
Expert Rating:
2.5 stars 
Price: Starting at $549
Pros: Simple up-down height control paddle has cleaner look than buttons and syncs to your smartphone through Bluetooth for impressive parlor tricks. Extra tubing in the leg-to-foot connection and a metal crossbar add to stability. Ten year warranty (which you'll probably wind up needing). If your local IKEA has it in stock and you're OK with the very limited choice in colors/sizes, it is one of the fastest desks you can buy short of using Amazon Prime.
Cons: Severely underpowered leading to concerns that it will have a similarly notorious DOA and premature field failure track record as the IKEA Bekant. Limited to only two drab colors and two sizes. Tubing in the legs are a collision hazard when swiveling out of your chair. Typically arduous IKEA assembly.
Where to Buy
IKEA Bekant Standing Desk User Reviews
---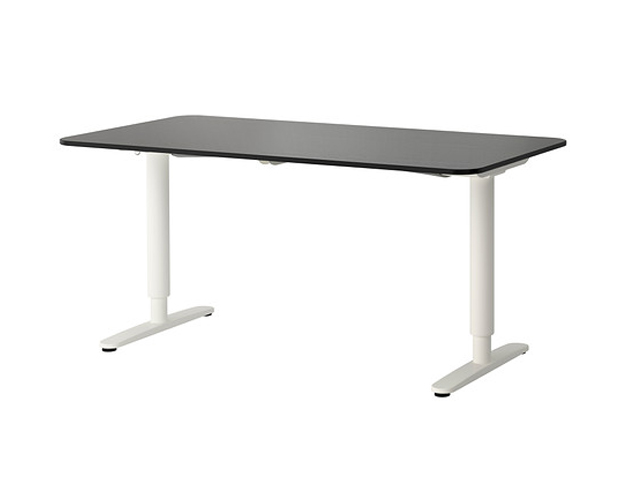 Expert Rating: 
.5 stars 
Price: $399
Pros: A constant companion in college dorms and budget-conscious homes, Ikea aims to make the sit-stand office as affordable as possible with their adjustable-height Bekant. The desk manages to come in at $489 and offers a 10-year warranty. If your office furniture is IKEA brand this desk would fit in well with the rest of the decor.
Cons: The Bekant's low cost comes at the expense of unimpressive stats: its 154lb weight capacity is eclipsed by most desks, even manually-operated desks, and its low max height of 48″ makes it less than ideal for tall users or treadmill desk use. For a few dollars more you can get a much higher caliber desk from a manufacturer that specializes in these products. Overwhelming consumer complaints of early failing product.
Where to Buy
IKEA Bekant Standing Desk User Reviews
---
Expert Rating: 
0.5 stars
Price: starting at $299
Pros: The good news is the Autonomous SmartDesk is cheap – really, really cheap. It also has an AI option that will act as your personal assistant, (albeit a very limited personal assistant compared to the Amazon Echo, for instance).
Cons: Unfortunately, it's cheap in both ways, cost and quality. We're concerned about stability, reliability of the motors, and durability/appearance of the tabletop. The company is notoriously late with deliveries (customers' stories of paying five to six months before receiving the product are not uncommon), and the ergonomic "cutout" version is hardly ergonomic and awkward to stand inside of. It takes just a little more to get something of far better quality. Consumer complaints on public forums number in the hundreds while only curated "5-star" reviews are published on Autonomous' website.
Where to Buy
Autonomous SmartDesk Standing Desk User Reviews
---
Don't miss our comprehensive round-up reviews of Corner Standing Desks and L-Shaped Standing Desks, as well as our selected round-up for American Made Standing Desk reviews and Quick-Install Standing Desk reviews.