Officemaster Discovery Ergonomic Chair Review
Odd-looking, but there's wisdom behind the weirdness. The Discovery's unique shape helps workers avoid the insidious computer hunch position, and many here at the office have fallen in love with the scapular range of motion these chairs offer. Besides that, they have the superb adjustability, comfort, and quality we've come to expect from Officemaster. It's not for everyone, but the Discovery has become a fast favorite at the WorkWhileWalking offices, and chairbound workers may find it a welcome break from the norm.
Seat width: 20"
Seat depth: 17"-19.5"
The Discovery comes with Officemaster's superb adjustability, just about anyone can find a comfy spot in one of these chairs. The unusual shape of the Discovery back allows a worker to roll their shoulders back and maintain upright posture.
More adjustment means more levers, and the Achilles' heel of any active-adjustment office chair is an accompanying learning curve while a user gets used to the chair and how best to adjust it.
Review Details
Discover Comfort
Yes, let's get it out of the way: the Discovery looks like an enormous foam nose.  But one body part enables another, and your shoulders will thank you for choosing this oddball.  Discovery chairs were originally designed for workers who spent most of their days copying documents.  The primary motion their job called for was a repeated horizontal twist, a move that stresses the back on its own, and more so when the twister has to contort to get their shoulders clear of their chair.  And so the Discovery was born.  The shoulderless back made swiveling while remaining upright possible, a huge step up in ergonomics.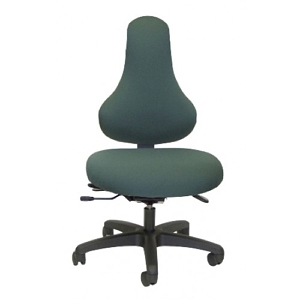 Another issue that the Discovery's design addresses is that of scapular impedance.  Officemaster's ergonomists claim that normal, high-backed chairs encourage sitters to lean forward into the dreaded "computer hunch" position, while freeing up the shoulders fixes this tendency.  While we couldn't find any scientific research on scapular impedance, the claim still sounds plausible after extensive use in our offices.  Testers who have tried the Discovery found that the extra shoulder room allowed them to settle more deeply into the chair and snugly support their spines along the central column.
A Nose for Everyone
The Discovery still retains the adjustability of another one of our Officemaster favorites, the Paramount.  Both chairs are designed with active adjustment in mind, giving a user complete control over their chair's position.  It's a bit of a trade-off; on one hand, you can almost always find a comfortable position in a Discovery, but there's a bit of a learning curve as you figure all those levers out.  And yes, there are a bunch of levers.
Discoveries, like most modern office chairs, are vertically adjustable.  Moving one lever also allows reclining of the back of the chair, another controls tilt for both seat pan and back – opening the angle at the hip helps reduce pressure on the back.  The angle on the Discovery's seat pan can also be dropped with a rotating knob, a feature that works to keep the front of the pan from pressing into workers legs, which can easily crimp blood flow if not addressed.
The back of the seat, the "nose", is also adjustable, allowing users to position the stiff lumbar support section properly at the small of their backs.  One knock against the chair is that it does lack the adjustable lumber support of the Paramount, an option that we were sad to see absent.  Adjustable arm kits come heavily recommended; Officemaster's adjustable arms are variable-height, and can be shifted horizontally as well.  An upgraded kit also has pivoting, sliding arm rests.
Details, Details
Like all Officemaster chairs, the Discovery comes in a range of basic colors, and those trying to match one to their workspace should have no difficulty finding an appropriate hue.  Two different wheel types, plastic for carpet and hard rubber for hardwood, are also available.
The Discovery comes in two different sizes.  In our lab testing we definitely found that larger people were more comfortable in the larger sized version, and smaller people were more comfortable in the standard size chair, so be sure to pick the ideal size for your body type.
Discovery chairs, as with many Officemaster chairs, come with an excellent 12-year warranty.