Muvman Leaning Stool Review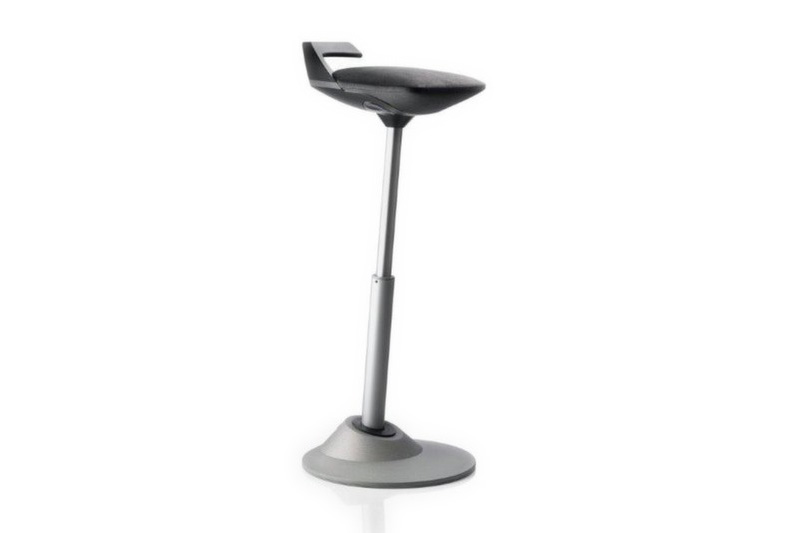 Expect to see more and more Muvman lookalikes, and soon. This German made leaning stool has set the bar in terms of functionality, ergonomics, and appearance. Designed as a companion to adjustable-height desks, the Muvman is a logical addition to any ergonomic office. It's never easy to adapt to a completely new way to work, but sometimes it's worth it – Muvman chairs help extend time spent on your feet, while still allowing you to settle back down when you need a rest.
Comfortable, and suitable for both sitting and standing. All in all, a very well-designed piece of equipment. Definitely on the chic side, with a futuristic feel to it. More comfortable than some of the other chairs we've seen, thanks to a well-padded, waterfall-edge seat. A wide, stable base means that a user can completely settle on top of it to rest, and still reap the rewards of micromovements.
Some reviewers reported some initial vertigo while sitting on a fully extended Muvman. Like any leaning chair, it takes some getting used to.
Review Details
Trend-setter
Movement, unsurprisingly, informs every aspect of the Muvman's design. The company behind the stool, Aeris, was also responsible for the Swopper chair, a springy little active seat that's been winning ergo awards for over a decade. Think of the Muvman as the Swopper 2.0. Movement is still king for Aeris, but their newer chair's form and function have caught up to the reality of a modern, fully-equipped office. The famously entertaining bounciness of the Swopper will be missed by some (though many never cared for it), but there are plenty of new features well worth the sacrifice.
The biggest change you'll see – and the one standing deskers will most appreciate – is the enormous range of vertical adjustment the Muvman brings to the table. The standard Muvman can adjust from 20" to around 33", more than enough to make it a serviceable sit-stand stool for most. If that's still not enough, an extended-height version tacks on three extra inches.
In the lowered position, a Muvman behaves much like a standard chair, and takes most of the weight of a settled user. Once raised, however, it becomes a full-fledged leaning stool. We've seen a wave of new entrants into this category of late, but the Muvman is one of its true pioneers. There's a reason that so many new leaning stools look just like Muvmans – the design works, and has been working for several years.
Like any leaning stool worth the name, a raised Muvman isn't for sitting on top of, although some reviewers tried and unsurprisingly reported feeling a little nervous about the height. To
correctly use a Muvman in the standing position, you simply lean back against it, letting the chair take some of your weight, but leaving the rest firmly on your feet. The upshot is a seat that lets you avoid complete inactivity by keeping a load on your legs, but doesn't cause the fatigue and pain characteristic of fully standing workdays. A Muvman's central pole naturally inclines 4 degrees forward, encouraging the proper leaning position – imagine an isosceles triangle with the user's rear perched on the uppermost point (an uncomfortable, but strictly metaphorical image), and with their legs and the seat forming the two equal, angled sides.
It's this position that necessitates the odd seat pan of the Muvman. The convex cushion atop the leaning pole is more than just a fashionable design choice. Leaning workers naturally balance themselves on the very edge of their seats, and standard, sharp angled seat pans can have some nasty consequences. It just isn't a good idea to put all that weight onto an angle – poorly designed seats will cut into your legs, strangling blood flow, and eventually causing pain and fatigue. And so the Muvman's seat, with its waterfall-style, yielding front edge, is a very, very good thing. Not only that, but the convex shape helps push you forward onto the seat front, encouraging proper leaning posture.
Aeris has done their best to keep their chair as mobile as its users. The small handle at the back of the seat isn't a poorly-conceived backrest (leaning backward in a Muvman isn't recommended to begin with), it's a carrying handle. Muvman chairs come in at a relatively sprightly 14.2 lbs, so you might not want to haul them everywhere, but they can easily tag along to a meeting or coworker's desk. Alternately, they're great sit-stand chairs – not only can they cover both positions, but if you decide to stand unaided, they're much easier to move and stow than standard wheeled office chairs. One place we wouldn't recommend taking it is atop a treadmill (we've found other leaning stools that are better companions for a treadmill workstation) but the hard baseplate on the Muvman is less than belt-friendly.
Get Muving
So that's the Muvman, but where's the muvment? Answer: in the chair's baseplate. The "muvzone", a spring strut, allows the chair to tilt in response to a user's movements. This freedom further helps maintain in-chair leg activity, preventing blood pooling (which can result in swelling, varicose veins, and blood clots) and some of the effects of a sedentary workday. There's still debate, but these swiveling micromovements are also often claimed to have beneficial effects on core strength and back health. While research has yet to completely catch up with marketing, the idea sounds plausible at the very least. The tiny stabilizations required while using a Muvman or similar product do help ward off some of the fatigue that accompanies total inactivity; leaning chair users often report feeling more alert and productive once they get on their feet.
We've pitted the Muvman against the top competition in our active ergonomic chair comparison review. Subscribe to our newsletter to receive the latest office fitness product reviews in your inbox.