iMovR "Original" Cable Management Kit Review
Like most reviews sites, our editorial staff and laboratory testing expenses are partially offset by earning small commissions (at no cost to you) when you purchase something through those links. Learn More

Overview
Review Summary

[Note: While iMovR still sells this original cable management kit while inventory remains, it has launched the new Tucker Cable Management Kit, which we have reviewed separately.]
iMovR's "original" cable management kit is designed not just to organize your wires and keep your desk tidy, but to change and adapt to your evolving workstation. Versatile, reusable components make it easy to reconfigure your cables again and again, all while being robust enough to take on the multitude of cables that plague your workspace. Employing high-tack, adhesive-backed mounting "brackets" in lieu of the low-tack, adhesive-backed mounting "clips" found in less expensive cable management kits also sets this one apart from lower-cost competitors. The Advanced Kit's seven-outlet power strip with built-in surge protector – and especially its twelve-foot-long cord – frees your desk as well, to better customize your whole office.

MSRP / List Price
$49.95
Street Price

Close-out pricing on the last of this inventory is $39.95 for the Basic Kit and $79.95 for the Advanced Kit.
Compare to iMovR's new Tucker Cable Management Kits, reviewed separately.

Where to buy
Buy on iMovR.com

Rating
| | |
| --- | --- |
| Expert Rating | |
| Positives | The majority of the components are reusable, saving you the hassle of getting new parts when you want to reorganize cables. Heavy-duty weight capacities mean your cables will stay in place. A twelve-foot-long cord on the seven-outlet power strip (with built-in surge protector) allows your desk to work anywhere in the room. |
| Negatives | The cable sleeve has a tendency to bend and protrude when you lower the desk. But without spending hundreds on a higher-end flexible cable chain enclosure and terminating it into power and data plugs installed in the floor directly below your desk there's no away to avoid this phenomenon with an adjustable-height desk. |
[Note: While iMovR still sells this original cable management kit while inventory remains, it has launched the new Tucker Cable Management Kit, which we have reviewed separately.]
iMovR's "Original" Cable Management Kit promises to prevail where other kits have fallen short. Versatile, strong, and—most importantly—reusable, it's designed to not only organize your cables now, but to keep them organized in the future as you add or remove cords.
[Editors Note: While iMovR still sells this original cable management kit while inventory remains, it has launched the new Tucker Cable Management Kit, which we have reviewed separately.]
Workplace Detangler
Everyone wants a clean desk space to do their work. But as you configure and outfit your workspace, you'll inevitably accrue a daunting amount of cables. PC towers, monitors, Ethernet cables, mouse and keyboard, device chargers, and surge protectors all contribute to an unsightly tangle beneath (or worse, on top of) your desk. Throw in an electric standing desk and you're faced with a regular office jungle.
An untidy cable snarl is more than just an aesthetic monstrosity. Tangled cables can pose trip hazards to unsuspecting workers caught in the underbrush of cords around their desk. They also make modifications to the workplace tedious, requiring you to navigate a maze of wires to figure out which one connects where—you meant to unplug your speakers but ended up unplugging your whole computer. To add to this nightmare, adjustable-height desk users need to take care that their cords don't snag on anything when they raise or lower their desk, lest they disconnect or damage any of their devices.
Perils of Cable Organization
Cable management systems are designed to tame this unseemly jungle of cords, and provide a better-looking and better-protected workstation. Many manufacturers have tried to come up with their own cable organizer kit, which range from a handful of adhesive clips and zip ties to more robust systems with a wide assortment of tools, including surge protectors and cable troughs that attach to the underside of the desk.
These cable management kits differ in componentry and complexity, but most of them run into some of the same pitfalls. The first has to do with the kit's capabilities. Many basic kits have too few components and with too little variety. These kits don't have the diverse arsenal necessary to handle the wide array of workstation configurations out there. Another drawback is that they're single-use affairs. Once installed, the majority of these kits can't be undone or repositioned: zip ties are tightly secured and adhesive clips are stuck in place. This results in a good deal of frustration when it comes time to add or remove cables. And once you're out of ties or clips, you'll have to buy new ones.
Place Your Cables Under New Management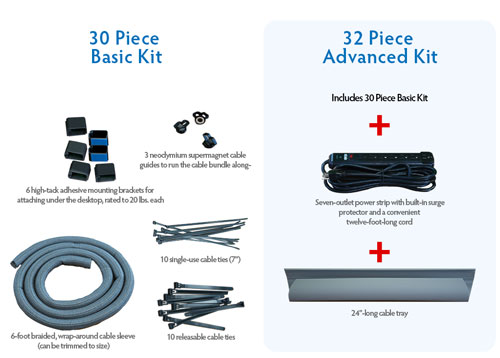 These pitfalls are what iMovR had in mind when they were developing their own solution for unruly wires. The iMovR Cable Management Kit promises to prevail where other kits have fallen short. Versatile, strong, and—most importantly—reusable, it's designed to not only organize your cables now, but to keep them organized in the future as you add or remove cords.
The kit is available in two forms: Basic ($49.95) and Advanced ($99.95). The basic kit comes with a variety of different tools for organizing and hiding your cables. In addition to the standard cable ties customary to other kits, it comes with ten reusable cable ties, which allow you to reconfigure your cords later down the road without breaking the cable ties themselves. For concealing these cords to the underside of the desk, the Basic Kit comes with a set of six adhesive-backed mounting brackets (much more robust than the typical mounting "clips" provided in other kits), which easily stick to the underside of your desk. These pinch-and-snap brackets open up to access the enclosed cables, and snap back shut with ease. Additionally, the kit comes with three magnetic cable guides, which secure your cords to various parts of your desk's metal frame. Rounding off the Basic Kit roster is a six-foot-long, 0.75″-wide cable sleeve. This sleeve wraps around the remaining cables, protecting them and providing a single, untangled line from your desk to a wall outlet.
While the Basic Kit will suffice for more rudimentary desks with only a laptop and monitor to contend with, buffed out workstations—ones with computers, routers, printers, and a host of other electric devices—will require the more robust Advanced Kit to thoroughly organize the resulting thicket of cables. This kit improves upon the basic variant, and features both a seven-outlet surge protector with a twelve-foot cord, and a two-foot-long, heavy-duty, low-profile cable trough made to hold any remaining cable bundles as well as your power strip nicely concealed under the back edge of the desktop. The advanced kit guarantees clean, tangle-free cable organization for just about any workstation.
Effortless Setup, Again and Again
Whether you go for the Basic or Advanced version, you'll be glad to know that installing the Cable Management Kit requires no tools. Mounting brackets adhere to any flat surface, and cable guides attach to the base with the power of Neodymium supermagnets. The cable trough attaches easily to the underside of the desk with a wide adhesive strip, unlike similar kits that require you to drill the trough in place (though there are two pre-drilled screw holes in the trough just in case you prefer that mounting method). A distinct advantage of this adhesive trough is that you can place it anywhere along the underside, to ensure that it doesn't impede ergonomic desk accessories like monitor arms or keyboard trays.
A major improvement over other cable kits is the amount of reusability iMovR's kit offers. To start things off, the reusable cable ties make future adjustments a cinch, literally. Other kits—even those with adhesive mounting anchors—rely on single-use zip ties to secure your cables. These adhesive brackets, on the other hand, open and close without the use of cable ties, for easy modification. The magnetic cable guides take this reusability even further with their ability to be repositioned as often as needed. The flexible cable sleeve can quickly be wrapped and re-wrapped around your cable bundles. iMovR has even put together a handy video showing potential users the included parts and offering advice on how best to use and re-use them, which we've embedded below.
Robust and Ample
Having checked out several other popular cable management kits we were surprised to learn how much weight bearing and cable thickness capacity the iMovR cable management kits provided. You can spend a little less to buy other kits on the market but be prepared for cable clips with small purchase that fall down when the adhesives give out under the load of cables as your desk moves up and down, or challenges in getting all your cables and cords routed together without some danglers "outside the system."
The mounting brackets, which measure 1.5″ long and 0.75″ wide, can easily fit about six to eight cables. For its part, the braided sleeve can accommodate up to five cables, and is flexible enough to bend and move as you adjust your desk's height. Unlike cheaper cable "sleeves" we found in other cable management kits, this one doesn't require a special tool to route your cables through (and therefore there's no risk of misplacing that tool). The Neodymium super-magnetic cable guides are equally impressive and, far from your run-of-the-mill refrigerator magnets, attach securely to the base: they can safely carry over four pounds of weight when suspended on the underside of the base. And while an adhesive cable trough might not inspire much confidence, fear not: After sticking the cable trough to the desk top, we managed to load it up with over twenty pounds of weight. So rest assured it can handle just about any common power strip.
Customizable Cable Kit Colors
To further tailor your cable management kit to your workstation, both the Basic and Advanced variants come in your choice of gray or black. These color options match the bases on vast majority of sit-stand desks made today. Most other kits being sold for use with adjustable-height desks come only in black, leaving about a third of the market in the cold.
Free Your Desk From The Wall
One crucial advantage of iMovR's Cable Management Kit, which we think deserves its own section, is the advanced kit's surge protector's twelve-foot cord. Electric standing desks typically don't have a long power cord—six or seven feet at best. This requires the desk to be near a wall outlet. Some other cable management kits provide their own power strips, but these too only reach five or six feet, and typically don't include any built-in surge protection. iMovR's seven-outlet, surge-protected power strip outclasses the others with its immense twelve-foot cord, which allows the desk to be installed nearly anywhere in the office, no longer a prisoner of the wall outlet.
The Takeaway
iMovR's cable management kit is designed not just to organize your wires and keep your desk tidy, but to change and adapt to your evolving workstation. Versatile, reusable components make it easy to reconfigure your cables again and again, all while being robust enough to take on the multitude of cables that plague your workspace. Employing high-tack, adhesive-backed mounting "brackets" in lieu of the low-tack, adhesive-backed mounting "clips" found in less expensive cable management kits also sets this one apart from lower-cost competitors. The Advanced Kit's seven-outlet power strip with built-in surge protector – and especially its twelve-foot-long cord – frees your desk as well, to better customize your whole office.
Options
| | | |
| --- | --- | --- |
| | Basic Kit | Advanced Kit |
| Price | $49.95 standalone, $39.95 in iMovR desk bundle | $99.95 standalone, $79.95 in iMovR desk bundle |
| 7″ Cable Ties (10 pack) | x | x |
| 5″ Releasable Cable Ties (10 pack) | x | x |
| Adhesive-Backed Mounting Brackets (6 pack) | x | x |
| Round Magnetic Wire Guides (3 pack) | x | x |
| 0.75″-Diameter Braided Wrap-Around Cable Sleeve (6′ long) | x | x |
| Cable Trough (24″ x 3″) | | x |
| 7-Outlet Surge Protector with 12′ Cord | | x |