Goldtouch V2 Ergonomic Keyboard Review
While it has some lingering quality-control issues – especially for Mac users, the Goldtouch V2 is still a great product for deskers concerned about repetitive strain injuries. Easy installation and adjustment make integration entirely pain free. In the end, you're looking at a solid all-in-one product from a very supportive company.
Extremely easy to install thanks to plug and play software, compatible with both Mac and PC computers. Wonderfully easy to adjust, thanks to a ball joint located between the two halves, allows 30º of splay and 30º of tenting (so far the best tent we've seen apart from vertical keyboard risers). Soft touch keys were very well received. Company goes above and beyond the call of duty to help users.
Not a true separable keyboard, the 30 degrees of splay offered simply aren't enough for some users. Thicker at the back then the front, resulting in positive, ergonomically-poor tilt, foot risers don't work after the keyboard's been tented. Extremely thick, which can make getting hands into an ergonomic posture difficult. Mac users often have to switch "option" and "command" keys, which are reversed.
Review Details
A V2 for Everyone
One of the first features anyone shopping for an ergonomic keyboard should look for is adjustability.  Body type – shockingly – varies from person to person, and you'd better believe that a sumo wrestler and a gymnast would need differently adjusted keyboards.  Goldtouch's keyboard addresses this issue by providing 30º of outward angling, and 30º of tenting (raising the inner edges of the keyboard halves).  By doing so, it addresses two common ergonomic no-no's – ulnar flexion (typing with hands too close to one another), and wrist pronation (excessive thumb-ward twisting of the hands) – both of which compress tissues in the wrist, leading to fatigue, pain, and eventually injury.
A ball-joint between the two halves of the V2 provides this range of motion.  While this feature does keep the V2 from being a truly separable keyboard like the Kinesis Freestyle – some users found the spacing insufficient – it also gives it unmatched adjustability.  A lever located above the keyboard allows a user to lock the V2 in any position covered by the ball joint.  Reaching your personal ergonomic sweet-spot is also simple: find your natural posture, and adjust the keyboard to fit.  Goldtouch offers helpful video instructions on doing so:
Low-force activated keys are also a great addition to any ergonomic keyboard, and the V2 leads the pack in sensitivity.  While some users find that this gives it a "mushy" feel, most adjust to it quickly and feel all the better for it.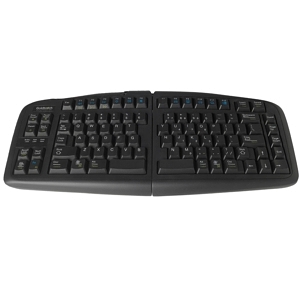 Company claims that a user can achieve negative tilt with adjustable feet on the underside of the keyboard should be taken with a grain of salt.  This isn't an option while the keyboard is tented, and if it isn't tented, well, why buy it in the first place? Furthermore, the V2 comes in at the bulky end of keyboards, and with a slightly thicker back edge that leads to slight, ergonomically poor, positive tilt.  Not a major gripe by any means, but users should pair the V2 with an adjustable keyboard tray that can remove at least 15 degrees from that tilt instead of relying on its built-in risers.
Mind the Macs…
One of the most consistent complaints we noticed about the V2 was that it simply didn't seem to be meant for Mac users.  First, the bad news: the "option" and "command" keys are reversed, causing many Mac owners to switch the mapping themselves.  Doing so isn't necessarily difficult, but many reviewers found it irritating.  Additionally, Apple computers will only recognize it as a "standard" USB keyboard, so some Mac-specific keys won't function.  On the other hand, the V2 does bring some unique Mac/PC compatibility.  Most boards are purpose-built for either one or the other, but Goldtouch made switching as easy as…switching.  Literally.  There's a switch on the back that changes between the two.  Folks who find themselves in the somewhat unusual position of using both PC and Mac computers should jump at this one.
Get Golden
Key Ovation's (the company behind Goldtouch) customer support has won it an enthusiastically loyal fanbase.  While certain components of the V2, particularly the adjustment lever, seem prone to breaking, the company's responsiveness and service make up for this shortcoming.  As shown above, video adjustment guides are offered and come recommended for any new user.  A one-year warranty is shorter than some competing products, but shouldn't be a deal-breaker by any means.
Accessories
The beauty of the GoldTouch V2 lies in its versatility.  Unlike the Kinesis Freestyle2, the other keyboard in this category, the V2 requires little to no help from accessories.  For those who consistently enter numerical data, we would recommend purchasing the optional numpad – the V2 doesn't include one, which allows for ergonomic mouse placement, but tapping numbers on a split keyboard is a trial we frankly wouldn't wish on anyone.  Goldtouch also offers palm rests, ergonomic mice, and accompanying mouse pads.  Buying their Ergosuite bundle nets you the lot.
Warranty
The V2 comes with a 1-year warranty, shorter than the 2-year coverage of the Kinesis Freestyle2.