iMovR ThermoTread GT Office Treadmill Review
Like most reviews sites, our editorial staff and laboratory testing expenses are partially offset by earning small commissions (at no cost to you) when you purchase something through those links. Learn More
Overview
Review Summary

[Editors Note – Nov 5, 2022: Note that iMovR has discontinued the Thermotread GT and launch the Unsit Office Treadmill in its stead. We leave the original Thermotread GT review intact here for posterity.]
With its introduction in 2016, the ThermoTread GT became the instant category killer with its state-of-the-art technology features and first intentional design as a true "office treadmill desk" (whereas other designs were little more than cosmetic re-skin of existing running treadmills). The years since have proven that all that investment R&D and quality componentry paid off for iMovR, as it has demonstrated more staying power than most of its competitors. The GT features unparalleled powertrain strength, frame rigidity, sound signature, and control sophistication. It is also the only "enterprise grade" treadmill desk in the market, with a built-in click-wrap liability waiver on the touch-screen interface. It's the only treadmill desk that has made its way into both, the risk-sensitive environments of 911 dispatch centers and NYC apartment buildings with noise-sensitive neighbors. iMovR's adds a strong North American support network and the industry's leading factory warranty to its low-maintenance design.

MSRP / List Price

$2,199

Street Price
iMovR's exclusive offer for WorkWhileWalking readers – Get 15% off everything in your cart with the coupon code WWW15
Shipping

Included in price for lower 48 states

Warranty

iMovR's warranty on the ThermoTread GT is as good as it gets in the treadmill desk industry. iMovR is contracted with Spirit, a large service organization specializing in fitness equipment, across the USA and Canada.
– 3 years on the motor
– 2 years on all other parts
– 1 year on labor

Controller

Smartphone-like, touch-enabled, full color, multi-lingual LCD desktop console

Construction

Heavy gauge steel for frame and polished extruded aluminum for the side rails. The walking deck is made from Bakelite (a significant upgrade from phenolic or wood). The ultra-durable walking belt and 3.0 HP motor and powertrain are designed to minimize sound signature in an office environment.

Weight Capacity

Maximum user weight is 400 lbs

Walking Belt Size

20″W x 50″L

Top Speed

2.5 mph

Dimensions

67.5″ x 28.35″ x 9.5″

Horsepower/RPM

3 HP / 4000 RPM

Noise Level

42.7 dB (Measured at ear height at 2.0 mph)

Product Weight

Treadmill: 147 lbs
Controller: 1.75 lbs

Shipping Weight

Gross shipping weight in box: 176 lbs (not including pallet)

Power Consumption

Pulls max of 7 amp in extreme weight 300 to 400 lbs and max speed.
More typical current draw at walking speed with average weight person is in the 1amp to 2.5amp range.

Typical Assembly Time

Arrives fully assembled

NEAT™ Certified by Mayo Clinic

Yes

Competition

Compare to All Top-Rated Office Treadmill Desks
Compare to All Standalone Under-Desk Treadmill Bases

User Reviews
See user reviews
Where to buy
Buy on iMovR

Rating
| | |
| --- | --- |
| Safety | |
| Reliability | |
| Customer Experience | |
| Quality and Aesthetics | |
| Ergonomics | |
| Innovation | |
| Value | |
| Suitability for Treadmill Desking | |
| Positives | Unlike the re-skinned gym equipment of yesteryear, the ThermoTread GT is built first for the office. A sleek touchscreen console tracks walking metrics, goals, and usage. Comes in with a far stronger motor, frame and walking deck than Lifespan's priciest TR5000, the distant second-best treadmill desk in the market. The GT is the only "enterprise grade" treadmill desk manufactured today, built for a 24x7 duty cycle and backed by an industry-leading warranty. |
| Negatives | Budget-sensitive deskers will have to decide if the dramatically better durability and high-tech features of the ThermoTread GT are worth the price jump from the Lifespan TR1200. |
[Editors Note - Nov 5, 2022: Note that iMovR has discontinued the Thermotread GT and launch the Unsit Office Treadmill in its stead. We leave the original Thermotread GT review intact here for posterity.]
Commercially-produced treadmill desks and their brands have come and gone since hitting the market in 2007. The iMovR ThermoTread GT has proven to be the most reliable for the serious office user. It is currently the highest rated and most recommended treadmill desk for residential and commercial offices. It is the only treadmill you will find in the demanding arena of 911 call centers thanks to its 24x7 duty cycle, extremely quiet operation, ideal deck size, and exceptionally strong motor, frame and walking deck. All that technology, quality, and its industry-leading warranty comes with a higher price tag, but if you're serious about using it a few hours a day for many years, the operating cost per year is actually lower than for any still surviving competitors.
[Editors' Note—Nov 5, 2022: It is with great disappointment that we hear iMovR has decided to suspend production of the ThermoTread GT Office Treadmill Base, and have instead partnered with InMovement to bring out the Unsit Office Treadmill in its stead. They give a full explanation of why they decided to stop producing their own treadmill bases on their website. They also elaborate on their continued commitment to developing products for the treadmill desking community, especially their standing desks—which remain the very best kind to pair with an under-desk treadmill (e.g. Lander, Lander Lite and Jaxson)—as well as SteadyType keyboard trays, treadtop standing mat, treadtop seats, treadmill lubricant, under-treadmill anti-static mats, etc.). We leave this original review of the Thermotread GT up for posterity.]
The Top-Rated Office Treadmill Since 2016
When we first received the iMovR ThermoTread GT in the test lab back in 2016, it was decidedly the most significant new product release to hit our industry since the inception of WorkWhileWalking four years earlier. Up until that time, we'd been very fond advocates of the LifeSpan Fitness TR1200 and TR5000 under-desk treadmill bases, which our expert review staff rates as the best on the market for the treadmill desk application. The new iMovR unit was definitely a game changer —especially for enterprise customers. It was when first introduced, and today remains the only true "enterprise grade" treadmill desk, as we'll get into below.
iMovR's ThermoTread GT came in at a much higher price point than the TR1200, and an equivalent price point to where the TR5000 "corporate unit" was at the time, but was clearly years ahead of both in virtually every other performance metric we use in our test lab. The boom in work-from-home trends since the pandemic, has since made the ThermoTread more popular in the high-end home office market after it was initially aimed at the corporate and government ("enterprise") markets.
Fast forward to today and the marketplace has changed rather dramatically. Numerous brands have come and gone since Steelcase introduced the Walkstation, way back in 2007, as the first commercially available treadmill desk. Too many  brands chased after the burgeoning treadmill desk market with a simple cosmetic re-skin of a cheap running treadmill. They failed to recognize the tremendous mechanical loads placed on the powertrain by the dead weight of someone walking at 1-2 mph compared to a runner actually kicking the belt in the direction the motor is turning. Improperly geared and powered for the task, units like the TreadDesk, RebelDesk and Exerpeutic Workfit headed for the landfill quickly. Our lab tests predicted these products wouldn't last, and indeed it didn't take long for these companies to exit the stage. "Big Cardio" brands like NordicTrak, ProForm, LifeFitness, Woodway, et al along with them.
Since the pandemic, in fact, 99 percent of the market share in the commercial treadmill desk industry has been split between just two companies — Lifespan Fitness and iMovR. As we recently updated in our reviews of the Lifespan treadmill desks and Lifespan standing desks, the one-time king of the hill has been slipping badly ever since the Utah-based company's founders walked out the door a few years ago.
Lifespan is now under complete control of its exclusive manufacturing partner in Taiwan. Things have devolved rather rapidly since, abetted further by supply chain problems due to the pandemic economy. You can read all the details in our aforementioned reviews. The summary boils down to a) the products have been rather drastically thinned down in componentry without changing model names, b) prices have been raised while factory warranties have been completely stripped out, c) there's been a complete "brain drain" of the American management team, and d) customers are reporting horrific tales of difficulties reaching the company for any service on their equipment.
So as of 2022, we don't know how long Lifespan is going to be in the game given the troubling outward signs. We were unable to reach anyone in Utah to speak to their future plans, but had several ex-employees verify that the propensity of recent negative reviews we've found on Amazon, for example, were not anomalous. While InMovement flickers in and out of shipping status with their UnSit treadmill desk, it is now priced the same as the Thermotread GT with a 1-star review versus the GT's 5-star. So for all intents and purposes, in terms of making a confident, long term investment in a treadmill desk there is really only a single brand left in the market — iMovR.
How the ThermoTread GT Stands Apart From All the Under-Desk Treadmills That Came Before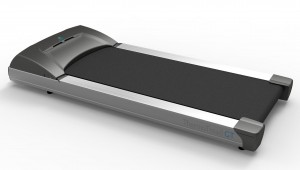 As we said above, the ThermoTread GT was initially targeted at the enterprise market, where Lifespan was focused more on the residential and small business market. As such, the GT was a much more robust unit, at a consequently higher price point. That's not to say that most of the same features wouldn't be just as important to a home office user who wanted the best, most reliable and quietest treadmill for themselves.
During the pandemic, treadmill desks have really been having their moment, as you might imagine — in fact, it's been hard to get them from time to time with all the supply chain delays. iMovR reports that 95 percent of their sales have shifted to home office since March of 2020, so there's no question that there's a substantial market for this high-end treadmill with consumers who have the budget (or have employers who can reimburse).
The "clean sheet" design of the ThermoTread GT started with the requirements of a productive office. It had to be:
Supremely quiet in operation
Supremely durable and reliable (if used in a shared workstation, able to run up to 24 hours a day with users of varying sizes)
Easy to maintain, with a solid warranty and service organization to support it
Governed to a maximum speed of no more than 2.5 mph, to prevent risk from trip injury or cardio exhaustion
Have a built-in "click-wrap" liability waiver that must be accepted by the user at power-up, to satisfy any corporate legal department concerns
Have a shorter and wider deck than a running treadmill, with a lower step-up height than a typical running treadmill
Be lighter on power consumption without causing problems for sensitive computer equipment on the same circuit.
In contrast, earlier walking treadmills were mere "retreads" (pardon the pun) of existing gym treadmills that were essentially force fit into the office application without much thought. Co-workers found their many noises distracting and legal departments had many concerns about potential injury on company property if employees were able to run or exhaust themselves and faint while using their treadmill desks.
For the corporate or high-end residential customer, there was no contest; the ThermoTread GT far outshines the consumer-grade TR5000 on all scores — reliability, duty cycle, digital controls with liability waiver, governed speed, low sound signature, easy maintenance, excellent support and strong factory warranty. For the more budget-sensitive buyer, the question will boil down to whether the additional high-tech features, superior performance, and better warranty of the ThermoTread GT will compel them to spend more for their treadmill base. Considering the number of hours the typical treadmill desker spends walking at their desk every week, many do wind up doing the math on cost-of-ownership over the long run and opt for the dream machine.
A Note on Horsepower and Weight Ratings
If you've been reading WorkWhileWalking's reviews for a while, you're probably already aware that horsepower is a meaningless indication of a treadmill's true weight capacity. Yet manufacturers insist on publishing this, and only this specification about their drivetrain's capacity. Factors such as frame strength, deck material and rigidity, belt friction coefficient and surface area, gearing ratio, flywheel size and weight, motor RPM, roller diameters, etc. go into figuring how much weight a treadmill can support and for how long. iMovR's veteran treadmill engineering team designed the ThermoTread GT to outperform the TR5000 in every way, even though their relative cost (when factoring in that a Lifespan customer will have to pay extra for an "extended warranty" to get the same warranty the ThermoTread comes with by default) is about the same.
iMovR is the first treadmill desk manufacturer we've worked with who has actually supplied evidence of their testing methodology whereas other treadmill manufacturers claim weight ratings without evidence. The ThermoTread's 400-pound weight rating was derived through real FEA (Finite Element Analysis) and automated 24×7 simulated stress testing.
We've asked numerous LifeSpan representatives how the company arrived at the different duty cycle ratings for their treadmills, but have only been told "this is how we position the units against each other." The ThermoTread GT has no duty cycle limitations; it can be used continuously without worry of prematurely burning out components. Sitting on the floor next to a Lifespan treadmill it looks and feels like a HUMV sitting next to a sedan. There's 30 percent more weight to the GT, for starters, and a lot more metal than plastic. So even visually you can immediately tell there's a huge difference in quality and robustness between the iMovR and Lifespan products.
Part of the weight rating is also determined by the quality of the treadmill deck itself. Really cheap consumer-grade treadmills will often use melamine boards, as we find on the TreadDesk. Lifespan's treadmills all use higher-quality phenolic boards. iMovR's ThermoTread GT, however, is the only one on the market that uses the highest-quality board, made of a special plastic alloy called Bakelite. The TR1200's deck is only ¾" thick; the TR5000's is 1" thick, like the ThermoTread's, contributing to their higher weight ratings.
It bears emphasis that proper lubrication is key for the optimal performance of any treadmill, and this is another area in which iMovR used LifeSpan's designs as a springboard for a small but important improvement in the ThermoTread GT. LifeSpan's own recommendation for lubricating its treadmills is to remove the motor enclosure hood in order to get your fingers under the belt to lift it and spray silicone oil underneath. Requiring tools to lubricate a treadmill is enough to dissuade many users from doing it every forty hours as recommended. In contrast, the ThermoTread design allows for sufficient space between the side rails and the walking belt to make it easy to lift the belt without the need for tools, and dispense with lubrication in under a minute. iMovR's lubricant bottle design is also much more cooperative, spraying a pinpoint stream rather than a cloudy mist of silicone oil (see our full reviews of the iMovR EasySpray Treadmill Lubricant and LifeSpan lubricant).
Dyaco is a Taiwanese cardio equipment manufacturer that produces a quarter of a million treadmills a year. Well-known Dyaco-owned brands in the US include Spirit, Sole, and Xterra. Ever since entering the treadmill business iMovR has enjoyed having Dyaco's large North American support and warranty repair organization behind it. Lifespan has their TR1200 and TR5000 models made by Strength Master of Taiwan, a much smaller cardio equipment manufacturer that has now taken full ownership of what used to be its exclusive distribution partner in the US and Europe (read more about that in our review of the Lifespan treadmill desks).
While iMovR and Dyaco created a strategic partnership to co-develop the treadmill base, the original controller design and numerous additional planned tech features expected to be released in 2022 and beyond are entirely developed by iMovR's Bellevue, WA-based software, electronics and mechanical engineering teams. These features tie together with iMovR's Bluetooth-sync'd vision of the active workstation of the future, where they currently plan up to seven devices being simultaneously controlled from a single app. You can read more about that on iMovR's Ergodynamics App page.
An Office-Focused Treadmill Design
The ThermoTread GT is purpose-built from the ground up for walking in an office setting. Unlike running treadmills, whose components aren't attuned to walking speeds, ThermoTread's gearing ratios are specially optimized to deliver high torque at low speeds, which is ideal for walking. The result is a reliable, long lasting office treadmill. Just as important is the motor's noise signature. Noisy treadmills can be a nuisance in the workplace, particularly in small, personal offices. At just over 42 dB, the ThermoTread's whisper-quiet motor has the lowest noise signature of any office treadmill we've tested.
Despite its robust weight, positioning the ThermoTread underneath a desk is easy, thanks to two wheels towards the front of the treadmill, underneath the motor housing. Simply lift the back of the treadmill and push or pull it into place. The ThermoTread's 20″-wide treadmill belt provides a spacious walking surface that allows for a varied gait — an absolute necessity for preventing leg and hip pain during bouts of prolonged walking. Its 50″ belt length reduces the treadmill's footprint, allowing for more space behind. This feature is especially useful in a shared office environment, where you can expect a lot of foot traffic behind the treadmill. Aluminum side rails beside the belt provide enough space to safely stand when not walking, and match the office decor better than the more gym-oriented aesthetics of other office treadmills.
Where You'll Really Notice the Difference: the Desktop Console
Consumers pay a lot of attention to the desktop console design, and rightly so – it's the business end of the treadmill desk. We've seen desktop consoles range from slim to bulky, from Toys-R-Us-like cheap plastic construction to weighted bricks. To date, all the ones we've seen share one common characteristic that belies their gym equipment heritage: membrane input keys. Great for sweaty runners who need a big button to hit safely, membrane input keys can be oversized and unsightly on the modern desktop.
LifeSpan's desktop console is no exception. The membrane keys can be frustrating to use, and require many more presses than should be required to restart the treadmill after pausing, but they get the job done. The console is functionally sufficient – other than the clunky Bluetooth sync-to-laptop button that has never worked properly. It displays the basics: speed, time, distance, step count and calorie count. But that's where it ends. Aside from that long-standing Bluetooth sync problem, our only issue with the console is that some of the membrane switches have a tendency to break after heavy use.
The ThermoTread GT employs a modern, touch-screen LCD desktop display controller with a variety of functions available right out of the box. In addition to controlling treadmill speed you can view your time, distance, steps, and calories spent, to give you a more complete picture of your walking activity throughout the day. Additionally, the console gives you the tools to track the time you spend sitting, standing, and walking, as well as providing a separate, programmable Pomodoro timer that alerts you when it's time to get on your feet again. Finally, you can personalize your own treadmill speed and timer preferences in your own user profile, so you and everyone in your home or office can walk and work at your own pace, according to your own schedules.
In the not too distant future, the GT will have an optional console upgrade for Bluetooth, with which it will be able to manage not just the treadmill but also a variety of upcoming electric desk and monitor arm options from iMovR. Imagine logging into your desk, hitting one of three buttons – SIT, STAND or WALK – and having the desk height, monitor height and treadmill speed all change to your preferred settings. Mode changes will become instantaneous.
For Heavenly Corporate Wellness, Corporations Will Look to the Cloud
Treadmill desks in large enterprise environments today are ad-hoc occurrences. Individual employees or departments opt to buy them, but few corporations have made them easily available to any sedentary worker who wants one. iMovR is aiming to change this by getting these organizations to buy into treadmill desking at the top management level, and helping corporate wellness groups develop programs to promote the appropriate use of treadmill desks within every department that employs sedentary office workers. Where other vendors have sought to sell treadmill desks to pioneering employees or departments scattered throughout an organization, iMovR's comprehensive sales strategy is to convert the culture within corporations to make treadmill desking as popular as standing desks in 10 years.
To facilitate this, they have been developing the iMovR Cloud app (coming soon), to connect treadmill desks, standing desks, desktop workstations and other "NEAT devices" to the internet. Once connected there are a host of software features that large enterprise customers will be able to utilize. iMovR intends to offer these features free of charge to their customers, enabling both their own equipment as well as competitors' treadmills to be connected to the cloud real-time. More about that in a later review update.
Making Corporate Lawyers Very Happy
It has always struck us as deeply ironic that law firms are amongst the earliest adopters of treadmill desks, yet their in-house, esquire kin have a tendency to block the installation of treadmill desks for other employees' use over fear of potential liability should an employee or visitor get injured on one. See our article on What Legal Departments Need to Know About Treadmill Desks.
The incorporated "click wrap" liability waiver built into the log-in process makes it impossible for anyone to power up the treadmill without a) identifying themselves by logging in with an established user profile and b) clicking to approve the liability waiver. iMovR hopes to join a smartphone app in the future so users can have their preferred settings downloaded from, and usage stats uploaded to, the iMovR cloud. Enterprise customers will even be able to regulate the maximum allowable speed of any treadmill desk in the organization through the cloud connection.
No other treadmill desk manufacturer has the ability to capture a click-wrap liability waiver agreement from every user before powering up. No doubt, this one feature will make the ThermoTread GT a hands-down choice for corporations.
Standalone Treadmill Base or a Complete Treadmill Desk System?
iMovR invested two years of engineering in developing the ThermoTread GT and getting it right the first time. Unlike the Lifespan units that had a massive cost reduction redesign a few years ago (irritatingly, without changing their model numbers), not a single component on the GT has changed since its first production run in 2016. Because it's had an exceptional track record in the field, the company doesn't have any plans to build a smaller (cheaper) model.
That brand is probably best known for making the highest-quality standing desks in the industry, all of them made in the USA, with 15-year warranties on demand whereas its competitors continue to outsource to China to be as cheap as possible. They also own the patent on the ergodynamic SteadyType keyboard tray, which we think is a must for any treadmill desk user. There are literally tens of thousands of customizable iMovR desks you could pair with the ThermoTread GT, from standard rectangular desks in either 3D-laminate or solid wood finishes to L-desks, corner desks and even U-desks. Many have the SteadyType option, and for those that don't you can always add something like the SteadyType Exo Keyboard Tray as an option to any standing desk. See all the most popular iMovR treadmill desk pairings in our round-up of the Top-Rated Treadmill Desk Workstations.
The Takeaway
iMovR burst on the underdesk treadmill scene in 2016 after two years of stealth R&D with as close to a perfect product as we've seen in this category, and it has proven to have more staying power than any competing model without a doubt. While a more expensive option than the popular Lifespan TR1200, given Lifespan's worsening reliability and support issues right now, and long-term ownership costs associated with a treadmill desk, the ThermoTread GT is capturing more market share every day even at its higher price point. We know that like so many things that ship from Taiwan it has gone up dramatically in price since the pandemic due to drastic increases in deep ocean freight and trucking costs, raw materials and labor costs, and even currency exchange rates, so we hope that when the world gets back to "normal" again, the ThermoTread GT (and all fitness equipment, home furnishings, bicycles, cars, etc.) will come back down, but relative to the increasingly narrow options in the market it remains an excellent value considering it is built to last much longer than its competitors. iMovR also assures us that all the new tech features it has been developing will be downward compatible for its entire installed base of faithful users.
Recommended Accessories for Treadmill Deskers
It's worth mentioning that iMovR's EcoLast TreadTop Standing Mat is a must-consider add-on accessory for any office treadmill. When you want to take a pause from walking, the last thing you want to do is stand on the cushion-less hard deck of a treadmill for very long. These TreadTop mats are premium-quality, 100 percent polyurethane standing mats that are shaped specifically to fit the 20″-wide belt tracks of the most popular office treadmill models. They can be used atop the desk or astride the treadmill if you have a sit-stand-walk workstation, or both.
Treadmill lubrication is a must regardless of brand, and of all the lubricants we've reviewed, we actually recommend the iMovR Treadmill Lubricant (100% Silicone) for its superior formulation and ease of application for all of them, not just for the ThermoTread GT. See our primer on How to Lubricate A Treadmill for easy video instructions on how to keep any treadmill in tip-top running condition.
To protect your floors and your equipment, and reduce noise, static and vibration, an under-treadmill equipment mat is a great investment to consider as well. You'll also want to check out reviews of the most stable monitor arms for treadmill desks to address one of the most important concerns of working at an active workstation, proper monitor height for avoiding the next strain.
---

Frequently Bought Together With
Treadmills
---